OpenPro is the leader in web-based ERP software using open source LAMP technology
Since 1998 we have been delivering web-based ERP software solutions to small and mid-sized companies, and international enterprises. OpenPro business solutions integrate to all business functions, including phones, fax machines, email, websites, E-commerce carts, credit card payments, report writers, Executive Desktops, Business Intelligence, SQL databases, Document imaging, knowledgebase, and EDI.
OpenPro – Quality focused on the solution
Since its inception, OpenPro has been dedicated to producing technologically superior business software solutions and backing them with the finest implementation techniques and service.
OpenPro – First in many aspects
OpenPro is a pioneer in the ERP industry.
2000 First fully web or browser-based ERP software package on the market. Requires no client.
2000 First to use Open Source LAMP Technology with a complete ERP package.
2001 First to give purchase options: Software as a Service (SaaS), purchase or lease in house or hosted.
2002 First to have built-in document imaging.
2003 First to integrate Workflow in its ERP software package.
2004 First to integrate business solution and faxing using Hylafax.
2005 First to have a full open source, multi-language complete business solution.
2006 First to integrate with the Asterisk phone system.
2007 First to integrate with AJAX for custom screen processing.
2008 First to build SOAP XML integration with other packages.
2009 First to have OCR integration with Payables processing.
2010 First to have integration with osCommerce, Zen Cart and several other open source shopping carts.
2011 First to have integrated Executive Desktop and Business Intelligence.
2012 First to have paperless work flow with SMS texting to cell phones.
2013 First to have an integrated email process with templates.
2014 First to have amazon integration.
2015 First to have ebay integration.
2016 now works with gmail emails processing also works with word press
OpenPro – Designed to run on the web
OpenPro began as a web-based product and continues to perform exceptionally well. The OpenPro product is written using open source LAMP technology, Zend Optimizer and ionCube compiler. Linux Apache MySQL and PHP are major components of the open source community. This combination runs over 75% of today's internet websites.
OpenPro – Designed to interface with other systems and report writers
OpenPro has its own internal PHP builder report writer; it's a simple to report builder with many options for sorting, printing, and selection processes.
OpenPro also works with well-reviewed and popular report writers such as:
Jasper Reports – JasperReports is the world's most popular open source reporting solution. JasperSoft is committed to enhancing JasperReports through continuous product advancements and comprehensive offerings for service and support. JasperReports is rapidly becoming the industry standard.
Crystal Reports – has been the long time industry standard in report writers.
OpenPro has a complete open database, so additional report writers, such as Cognos, also work well.
OpenPro – Integrated design sends emails to customers, vendors, contacts, and company employees automatically
OpenPro can send emails and alerts to customers (to keep status of orders), vendors (notify them when late on shipments, etc) and internal staff (works with built-in work flows; alerts can be set up to expedite processes within the OpenPro system).
OpenPro – Designed to work with Hylafax: faxes to customers, vendors, contacts, and company employees automatically
OpenPro can send and receive faxes to customers (to keep status of orders), vendors (notify them when late on shipments, etc) and internal staff (works with built in work flows; alerts can be set up to expedite processes within the OpenPro system). OpenPro uses Hylafax since it is the most widely used fax processing software available.
OpenPro – Designed to work with the Asterisk phone system; when a customer calls, they have a caller ID and the OpenPro system will identify and pull up the customer's unique information
OpenPro integrates with phone systems using world-class open source Asterisk phone software. When a customer or vendor calls, Asterisk and the OpenPro system locate the caller's details before the call is even answered. The system logs all calls so customer and vendor information can be recorded and added to the contact database. Another great option gives the customer an opportunity to input their unique contact ID, so they are verified in the system before the phone even rings. OpenPro is proud to offer such a complete, unique and integrated package.
OpenPro – Designed to customize screens easily with create a screen processing and AJAX
With OpenPro, you can now add/change/delete and move fields on the screen using exclusive create a screen processing. End users can add fields to their screens in seconds; and with AJAX controls, you can easily make changes to existing screens.
OpenPro – Integrated with Document Imaging and Workflow processing
OpenPro Document Imaging manages documents throughout their life-cycle; from authoring and/or capture through review, approval, distribution, change/revision and archiving. It provides robust, high-performance content management functionality (document and email management, records management, enterprise report management, and enterprise application integration) and business process automation (Workflow) for enterprises as well as the Internet, corporate Intranet and Extranet.
OpenPro – Open database options
With the open database design, OpenPro runs on all the most popular SQL database engines (MySQL, MicroSoft MSSQL, ORACLE, IBM DB2). OpenPro partners with each of these database systems to develop a very robust ERP application.
MySQL is the world's most popular open source database.
The Microsoft SQL server database is very popular for Windows servers.
The Oracle database is now an industry standard that is available for an entry user price.
IBM's DB2 database software is full-featured, robust, scalable and easy to use. As the market share leader, DB2 provides the foundation of information on demand on Linux, UNIX and Windows platforms. DB2 UDB is specially designed and priced to meet your business needs, whether large or small.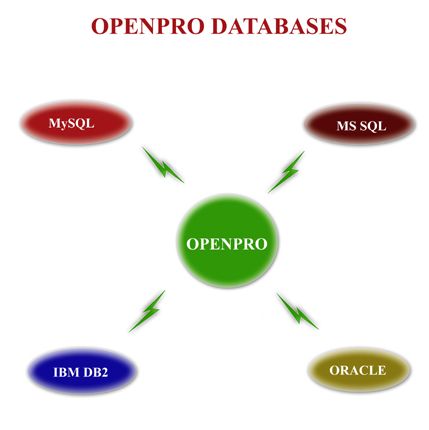 OpenPro uses an industry standard PHP ADODB interface, so other databases will also work with it, including IBM Informix, MaxSQL, OCI8, ODBC, PostgreSQL, Progress, SQLite, Sybase, Anywhere, FrontBase, Interbase (Firebird and Borland variants), FOXPRO, Access, ADO, DB2, SAP DB and ODBC.
OpenPro – Operating System Options
Commerce Server Enterprise Servers run on all the most popular operating systems using either Apache or IIS.
This runs on the world's most popular hardware and operating system platforms: Windows All, Unix, Linux (Red Hat, SUSE, slackware and others), SUN Solaris, IBM AIX, IBM I series and IBM Z series, OS400, MVS, Hewlett Packard HP-UX, and Apple Mac OS X.
OpenPro partners with these hardware and operating system vendors to build a strong system that runs today's applications.
Apache is the most popular web server in the world.
IIS is Microsoft's Information Internet Services web server.