Asterisk Phone Integration and OpenPro
OpenPro is the leader in web-based ERP software using open source LAMP technology.
Asterisk is a complete IP PBX telecommunication system for UNIX and Linux systems that integrates with OpenPro business solutions.
Asterisk is a complete IP PBX in software. It runs on a wide variety of operating systems including Linux, Mac OS X, OpenBSD, FreeBSD and Sun Solaris, and provides all of the features you would expect from a PBX, including many advanced features that are often associated with high end (and high cost) proprietary PBXs. Asterisk supports Voice over IP in many protocols and can interoperate with almost all standards-based telephony equipment using relatively inexpensive hardware.
Asterisk is released as open source under the GNU General Public License (GPL), meaning that it is available for download free of charge. Asterisk is the most popular open source software available, with the Asterisk Community being the top influencer in VoIP.
Asterisk was created by Mark Spencer of Digium, Inc in 1999. Code has been contributed from open source coders around the world, and testing and bug-patches from the community have provided invaluable aid to the development of this software.
Trixbox and other Asterisk-based telephony solutions offer a rich and flexible feature set. Asterisk offers both classical PBX functionality and advanced features, and interoperates with traditional standards-based telephony systems and Voice over IP systems. Asterisk offers the advanced features that are often associated with large, high end (and high cost) proprietary PBXs.
We have interface with Trixbox freePBX and OpenPro, so screens pop up letting the operator know who is calling in.
OpenPro can integrate with a phone system using world class open source Asterisk PBX software. When a customer or vendor calls, Asterisk can ask for caller ID and pop up the information before you answer the phone. It will also log all the calls so that they can be recorded and added to the contact database. There is also an option available where the customer can input his or her contact ID to get verified by the system before the call goes through. OpenPro is the first to give you a complete package like this.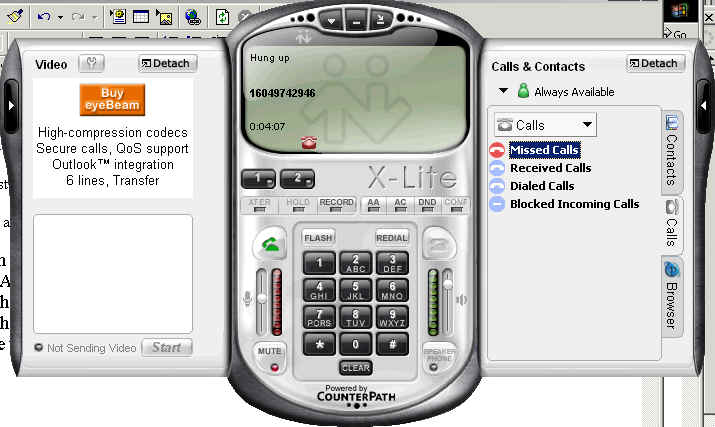 All the information is available on your desktop; within OpenPro, you can verify who is calling in.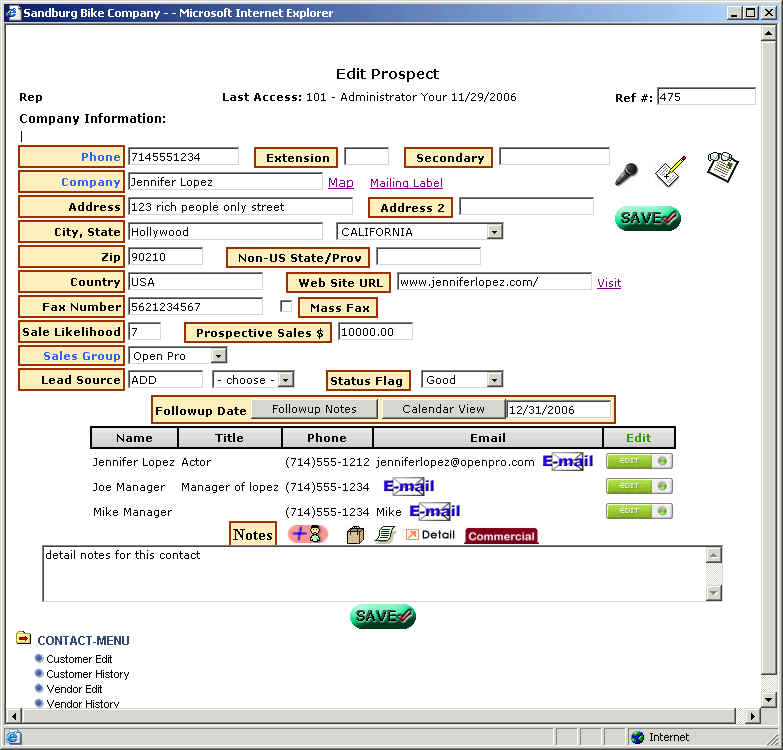 With easy to use menus, you can configure the phone system the way you like.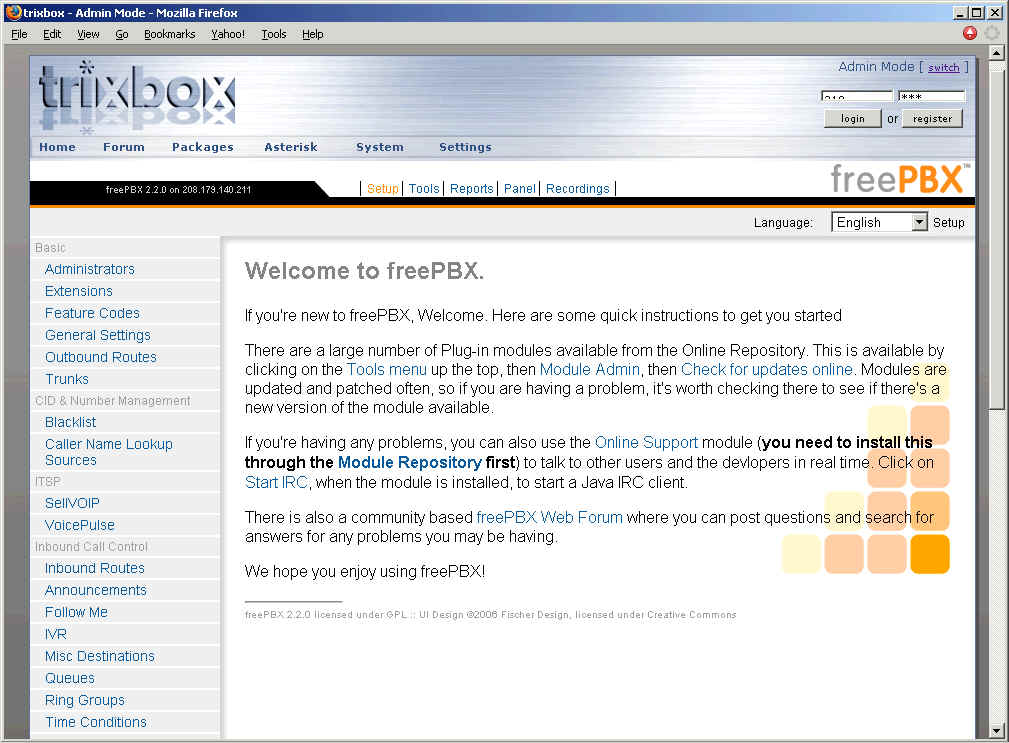 ---
See the Asterisk glossary for a list of important terms.
Call features
ADSI On-Screen Menu System
Alarm Receiver
Append Message
Authentication
Automated Attendant
Blacklists
Blind Transfer
Call Detail Records
Call Forward on Busy
Call Forward on No Answer
Call Forward Variable
Call Monitoring
Call Parking
Call Queuing
Call Recording
Call Retrieval
Call Routing (DID & ANI)
Call Snooping
Call Transfer
Call Waiting
Caller ID
Caller ID Blocking
Caller ID on Call Waiting
Calling Cards
Conference Bridging
Database Store / Retrieve
Database Integration
Dial by Name
Direct Inward System Access
Distinctive Ring
Distributed Universal Number Discovery (DUNDi)
Do Not Disturb
E911
ENUM
Fax Transmit and Receive (3rd Party OSS Package)
Flexible Extension Logic
Interactive Directory Listing
Interactive Voice Response (IVR)
Local and Remote Call Agents
Macros
Music On Hold
Music On Transfer:
Flexible Mp3-based System
Random or Linear Play
Volume Control
Call features
Predictive Dialer
Privacy
Open Settlement Protocol (OSP)
Overhead Paging
Protocol Conversion
Remote Call Pickup
Remote Office Support
Roaming Extensions
Route by Caller ID
SMS Messaging
Spell / Say
Streaming Media Access
Supervised Transfer
Talk Detection
Text-to-Speech (via Festival)
Three-way Calling
Time and Date
Transcoding
Trunking
VoIP Gateways
Voicemail:
Visual Indicator for Message Waiting
Stutter Dialtone for Message Waiting
Voicemail to email
Voicemail Groups
Web Voicemail Interface
Computer-Telephony Integration
AGI (Asterisk Gateway Interface)
Graphical Call Manager
Outbound Call Spooling
Predictive Dialer
TCP/IP Management Interface
Scalability
TDMoE (Time Division Multiplex over Ethernet)
Allows direct connection of Asterisk PBX
Zero latency
Uses commodity Ethernet hardware
Voice-over IP
Allows for integration of physically separate installations
Uses commonly deployed data connections
Allows a unified dialplan across multiple offices
Codecs
ADPCM
G.711 (A-Law & μ-Law)
G.722
G.723.1 (pass through)
G.726
G.729 (through purchase of a commercial license)
GSM
iLBC
Linear
LPC-10
Speex
Protocols
IAX™ (Inter-Asterisk Exchange)
H.323
SIP (Session Initiation Protocol)
MGCP (Media Gateway Control Protocol
SCCP (Cisco® Skinny®)
Traditional Telephony Interoperability
E&M
E&M Wink
Feature Group D
FXS
FXO
GR-303
Loopstart
Groundstart
Kewlstart
MF and DTMF support
Robbed-bit Signaling (RBS) Types
MFC-R2 (Not supported. However, a patch is available)
PRI Protocols
4ESS
BRI (ISDN4Linux)
DMS100
EuroISDN
Lucent 5E
National ISDN2
NFAS