OpenPro System Data flow
The OpenPro ERP basic system flow is as follows: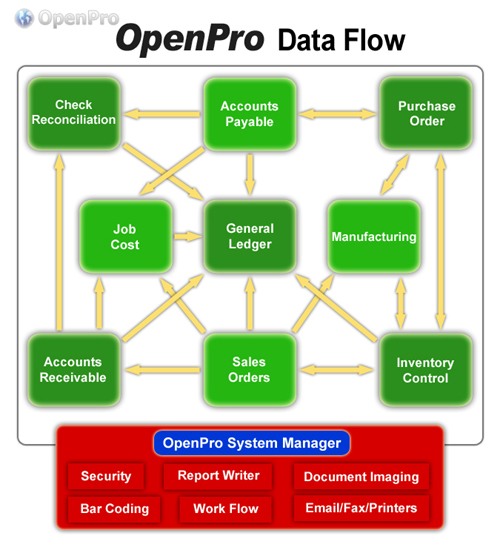 OpenPro is the leader in licensed ERP business software using open source LAMP technology. OpenPro has been delivering web-based ERP software to small and mid-sized companies as well as international enterprises since 1998. Designed to be flexible and easy to use, OpenPro uses open architecture and can run on any system and SQL database.
Transactions processed within OpenPro are secure and have a complete audit trail. From General Ledger you can drill down to the data entry screen of sub-ledgers. Each screen will display the user who entered in the transaction, the date and time it was entered. With that information, you have a complete audit within the system. No deletion of transactions is allowed, only adjusting entries. OpenPro supports most industries with a complete ERP software solution.
As an open source ERP solution, OpenPro software is a complete solution that delivers outstanding value based on exceptional price/performance and functionality. OpenPro ERP has a rules-based design to help many industries. OpenPro is a complete end-to-end solution that includes Financials, Distribution (Supply Chain), E-commerce, Manufacturing and Customer Relationship Management (CRM). OpenPro incorporates a suite of integrated products that enables the user to move seamlessly between each business facet, from order management to the plant floor to distribution. OpenPro's new release offers built-in Document Imaging and Work Flow.