Welcome to the Financial Accounting Software section of our System. We provide ERP solutions for commercial business and non-profit organizations; we also provide government accounting software. Please use the image map below to choose which area you would like to visit within this system.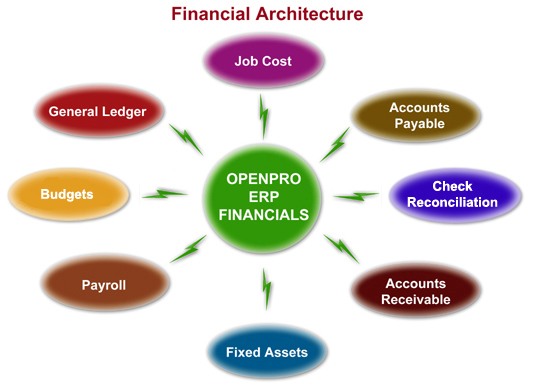 Ideal for companies standardizing on web-based technologies, OpenPro is a cost-effective, easy-to-implement business software solution that delivers Internet-ready accounting and business management capabilities to your business. OpenPro delivers easy access to all the data you need to manage your business.
Financial Accounting Software Highlights
Low cost of ownership and favorable return on investment
First fully web-based ERP software solution on the market
Easy to set up and configure
Unlimited user defined statements, balance sheet, trial balance, profit and loss statements and statements of cash flow
Improve global competitiveness through easy to view, accessible, real-time financial and performance information
Increase visibility of corporate performance and key success factors
Enhance global corporate performance through international financial consolidation and risk management capabilities
Improve budgetary control and reduce accounting and audit costs through streamlined financial processes
Extend financial processes to the web
OpenPro is designed to run in the guidelines of US-FASB (Financial Accounting Standards Board), US Standard General Ledger (USSGL), IFRS (International Financial Reporting Standards) and the IASB (International Accounting Standards Board) standards
The OpenPro financial system is compliant with Sarbanes Oxley (SOX) for public companies
OpenPro is also in compliance with the Governmental Accounting Standard Boards (GASB's)
OpenPro supports government accounting software requirements
OpenPro's open source ERP system provides accounting software for manufacturing companies of all sizes. OpenPro is built using a modular design, so manufacturers can select the modules that meet their needs today, with the opportunity to add new capabilities at any time. OpenPro's modules include: Financials, Manufacturing, Distribution, Customer Relationship Management (CRM), and E-commerce.
The Financial module includes all the capabilities required for manufacturing company's accounting:
For small manufacturers who simply need a complete business financial solution, OpenPro's software can be used as a complete standalone manufacturing accounting system that includes General Ledger, job cost, AP and AR, check reconciliation, fixed assets, Payroll HRS, and budgets.
An executive dashboard plus a broad range of reports provide decision-making information for all your business needs.
For larger manufacturers who need more capabilities from their Manufacturing ERP software, OpenPro offers a complete range of functions including:
For very large and global manufacturers, OpenPro provides all the capabilities required, including:
Complete Accounting Software for Manufacturing Companies of All Sizes: OpenPro provides powerful ERP software that is cost-effective, comprehensive and flexible.
We offer a variety of implementation and hosting options. OpenPro offers business software solutions for every company looking for more value and more features from their ERP solutions. Since 1998 we have been delivering web-based ERP software solutions to small and mid-sized companies as well as international enterprises.